Sponsored Content from Old Republic Surety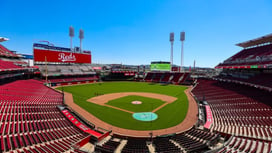 America's love of baseball is about so much more than the game itself. It's also about the overall ballpark experience.
From youth Little League fields to Major League Baseball stadiums, communities across the country invest significant resources into creating facilities where people can enjoy America's pastime.
Building or renovating a local baseball field can be a multi-million-dollar project with much more complicated and nuanced needs than typical property developments. Specialized experience is critical to ensuring these projects are completed on time and within budget.
The Challenge
Being prepared for and able to respond to the different issues that can come up on these projects and navigating all the different players ― no pun intended ― and capital sources involved.
Old Republic Surety's Approach
Know the project owner and how it's funded, whether it be through private investment or by a city or county using taxpayer money. Old Republic Surety also looks for general or subcontractors with experience working on these unique projects to ensure successful completion.
The Evolution of the Baseball Stadium
Baseball stadiums have come a long way from the inexpensive wooden structures that were constructed in the early days of the sport.[1]
Today, the size and scope of stadium facilities have expanded. Some involve mixed-use developments, restaurants or additional concession stands, as well as other athletic fields and outdoor activities like batting cages or playgrounds. Some stadiums are designed to also be amphitheaters that can host large events.
Even smaller community ballparks that are far less extravagant than professional baseball fields are major projects with various components to manage.
When a community invests taxpayer money to build, upgrade or enhance its facilities, that investment must be protected, meaning contractors and often subcontractors are required (by law) to secure surety bonds to bid and execute the project. Whether the project has public or private financing, the owner receives the benefits of a surety bond, which guarantees the contractor selected will perform per the specifications and pay all subcontractors and suppliers in a timely manner.
Community-Minded Approach
Old Republic Surety has provided bond coverage to contractors and subcontractors for a number of baseball stadium projects across the country.
From the construction of an entire college stadium in California, to Little League fields in Georgia, to upgraded concession stands at the Milwaukee Brewer's Miller Park, Old Republic's approach is to ensure the interests of all the involved parties are protected.
There's a slew of details and requirements for every stadium project, including the field design, what materials will be used, irrigation systems, other construction materials like masonry block, and signage, to name a few. Working with experienced parties who understand the unique challenges of these projects, and who are prepared to tackle these challenges, is critical.
Old Republic Bond Manager Sean Rummel worked on a $3.1 million bond for the development of a 22-acre raw land site ― which would include the construction of walking paths, multi-purpose fields, event lawn parking lot, restrooms and concession stands ― located in Cherokee County, Georgia, in 2013.
Early in the project's progress, problems were revealed in the drawings and scope: The property was on a floodplain in which irrigation, elevation and other difficulties arose. On top of these issues, the council wanted to add additional scopes ― including a bridge over the nearby river, lighting, trails and playgrounds ― that were not in the original plans, but wanted to increase the budget only slightly.
Rummel said because they had a close relationship, Old Republic worked to help the contractor successfully resolve the situation with the project owner so the job could be finished without additional expense to the owner.
"This issue, along with the scope additions, came up mid-project, so we had to come together to develop a resolution. That's one of the things you don't have control over," he said. "That relationship aspect is key for surety ― meeting face-to-face, and understanding the processes ― there's a lot to it."
Local stadiums are important to their communities, Rummel said, so it is imperative the work is done right, completed on time and within a municipality's budget.
"It's rewarding for a contractor to be able to hang their hat on these projects and know the community will benefit from it," he said.
Completed Stadium Bonds by Old Republic Surety
Baseball field renovations at Coral Reef Park in the Village of Palmetto, Fla., near Miami.

Contractor: Ballpark Maintenance Inc.
Agent: Security Bond Associates Inc., Miami
Date completed: January 21, 2022
Bond Amount: $394,756

Signage at Great American Ballpark, home of the Cincinnati Reds in Cincinnati

Capacity: 42,319
Contractor: Gus Holthaus Signs
Agent: CIC Agency
Date completed: 2018
Bond Amount: $218,995
Contractor masonry work on concession stand upgrades for Milwaukee Brewer's Miller Park in Milwaukee

Capacity: 41,900
Contractor: KMI Construction LLC
Agent: The Brehmer Agency Inc.
Date completed: May 2017
Bond Amount: $517,822


Baseball and softball field additions at California State University, Fullerton, Goodwin Field ― structural steel and metal decking (press box, concessions, bleachers, and dugout)

Capacity: 3,500
Contractor: Agate Steel Inc.
Agent: INSURICA Southwest
Date completed: Spring 2022
Bond Amount: $848,761
Baseball Stadium Facts
The Seattle Mariners will host the 2023 Major League Baseball All-Star Game at T-Mobile Park in Seattle.
[1] HowTheyPlay.com: Baseball Stadium History
[2] Baseball Almanac: Ballparks, Baseball Stadiums, Field of Dreams
[3] MLB.com: Every ballpark, from oldest to newest
[4] Baseball Almanac: Tropicana Field Historical Analysis
[5] Littleleague.org: Stadiums
Topics